GAMRAT HYDRO
FOR CARRYING WATER AND SOLID MATERIALS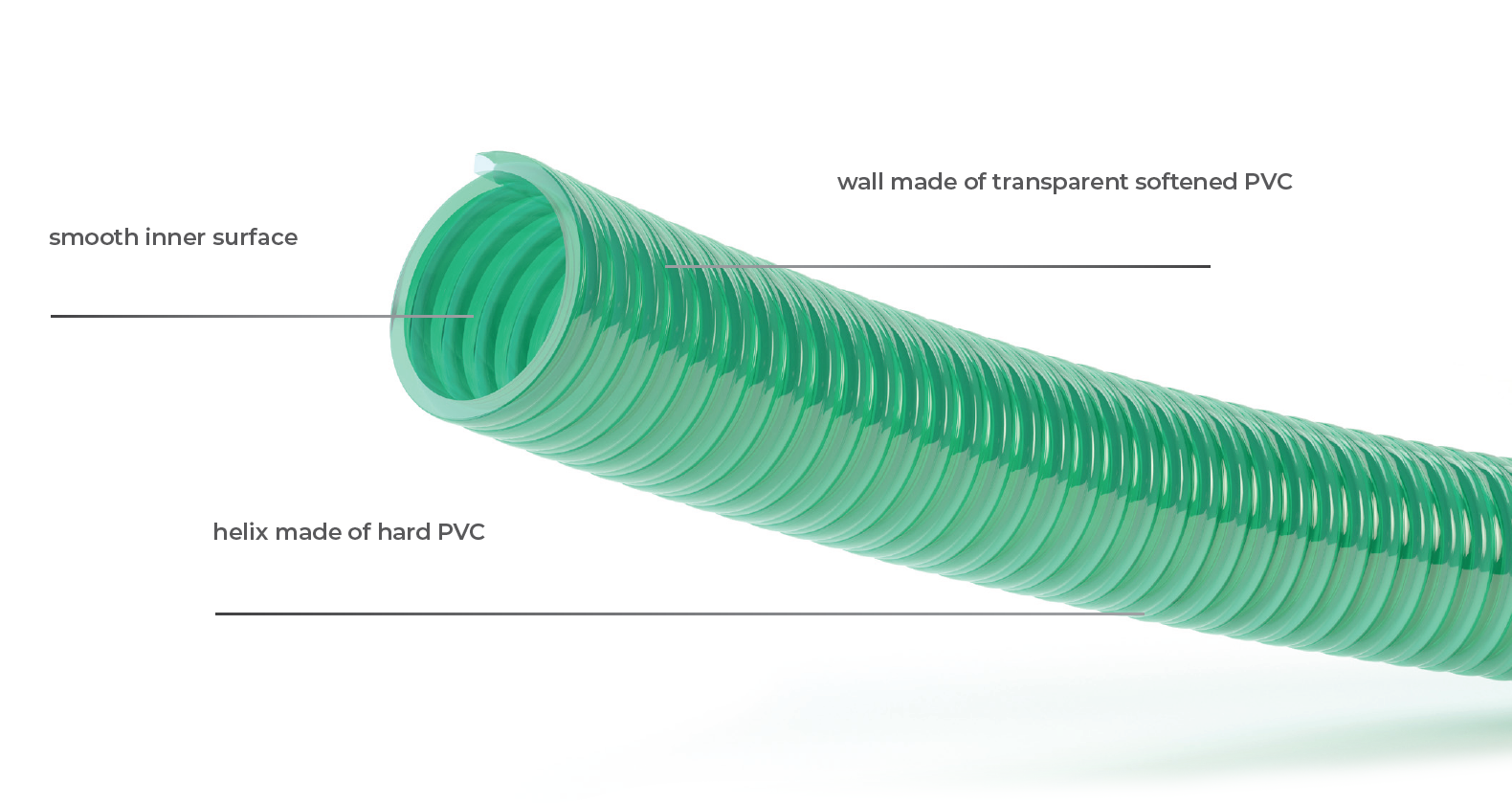 STRUCTURE:
Green wall made of transparent softened PVC, white helix made of hard PVC, smooth inner surface.
WORKING TEMPERATURE RANGE:
-10°C to +55°C
BENDING RESISTANCE:
A piece of hose subjected to bending up to the radius specified in the descriptions shall not kink or crack and shall pass the test specified in ISO 1746.
RESISTANCE TO NEGATIVE PRESSURE:
When the hose is subjected to a negative pressure, at 23°C, of 65 kPa (absolute pressure 35 kPa) no collapse or fracture shall appear on the hose.
QUALITY REQUIREMENTS:
PN-EN ISO 3994: 2014 | TWT-ZR-1/2017
GAMRAT HYDRO: TYPE 1 – LIGHT SERIES
TECHNICAL DATA
| Inner diameter [mm] | Inner diameter tolerance [mm] | Wall thickness [mm] | Weight [g/m] | Permissible working pressure [MPa] at temperature of 23°C ± 2°C | Permissible working pressure [MPa] at temperature of 55°C ± 2°C | Bending radius [mm] at temperature of 23°C ± 2°C |
| --- | --- | --- | --- | --- | --- | --- |
| 20 | ± 0,75 | 3,20 | 270 | 0,56 | 0,16 | 100 |
| 25 | ± 1,25 | 3,30 | 300 | 0,56 | 0,16 | 125 |
| 32 | ± 1,25 | 3,40 | 400 | 0,4 | 0,13 | 160 |
| 35 | ± 1,25 | 3,50 | 470 | 0,4 | 0,13 | 175 |
| 38 | ± 1,50 | 3,50 | 500 | 0,4 | 0,13 | 190 |
| 40 | ± 1,50 | 3,60 | 540 | 0,4 | 0,13 | 200 |
| 50 | ± 1,50 | 4,00 | 765 | 0,4 | 0,13 | 250 |
| 63 | ± 1,50 | 4,20 | 990 | 0,4 | 0,13 | 315 |
| 75 | ± 2,00 | 4,50 | 1260 | 0,3 | 0,10 | 375 |
| 80 | ± 2,00 | 4,80 | 1440 | 0,3 | 0,10 | 400 |
| 90 | ± 2,00 | 5,20 | 1620 | 0,3 | 0,10 | 450 |
| 100 | ± 2,00 | 5,50 | 1980 | 0,23 | 0,08 | 500 |
| 110 | ± 2,00 | 5,60 | 2250 | 0,23 | 0,08 | 550 |
| 125 | ± 2,00 | 5,80 | 2880 | 0,23 | 0,08 | 625 |
| 150 | ± 2,00 | 6,60 | 3870 | 0,20 | 0,06 | 750 |
| 160 | ± 2,00 | 6,70 | 4400 | 0,20 | 0,06 | 800 |
| 200 | ± 2,00 | 7,00 | 5850 | 0,20 | 0,06 | 1000 |
Wall thickness tolerance ± 5%
Safety factor – 1:3
Bending radius at temperature of -10°C = 20 x hose inner diameter