GAMRAT WENT
FOR REMOVING DUST, FUMES AND IN VACUUMING DEVICES.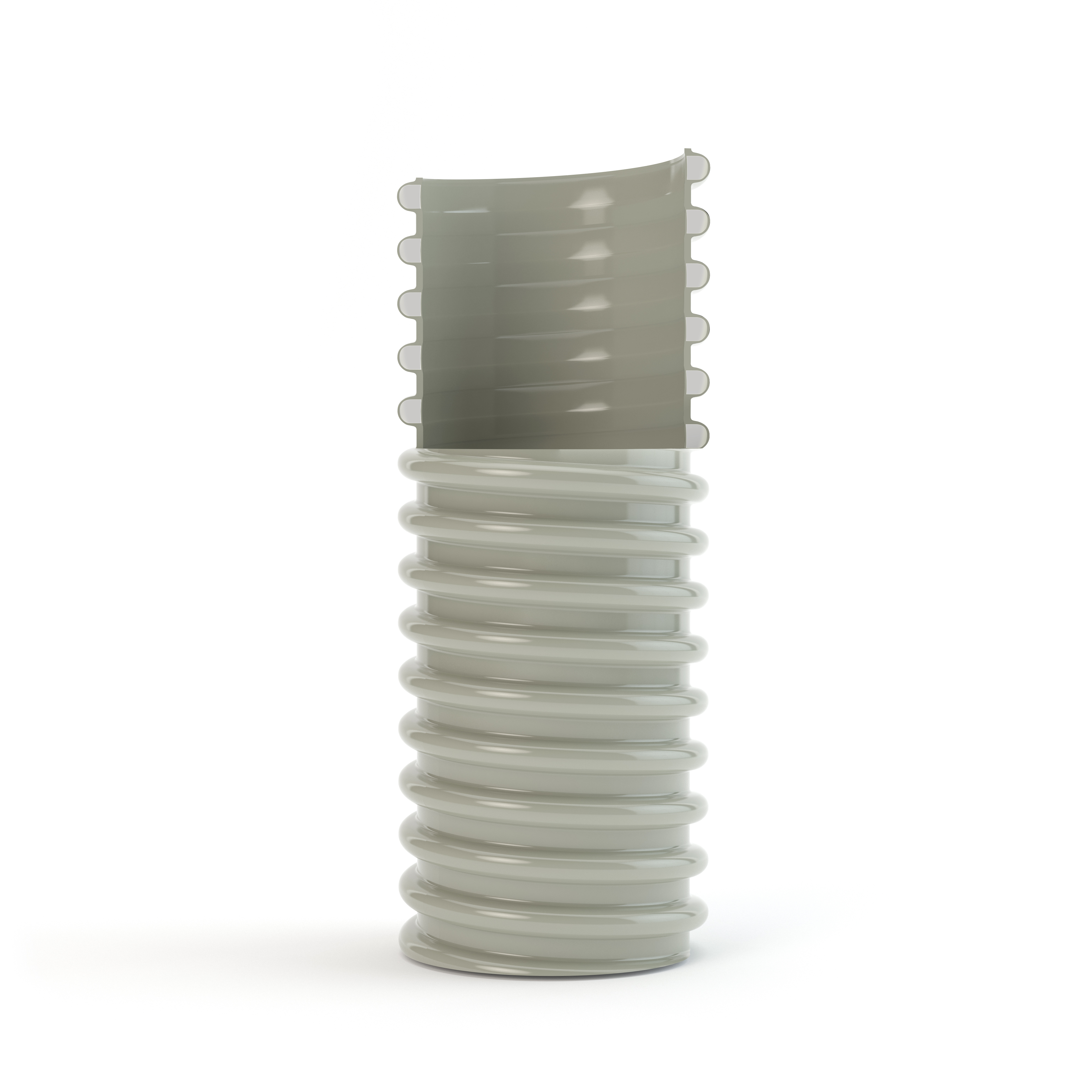 STRUCTURE:
Gray wall made of transparent softened PVC, white helix made of hard PVC, smooth inner surface.
WORKING TEMPERATURE RANGE:
-10°C to +55°C
RESISTANCE TO NEGATIVE PRESSURE:
When the pipe is subjected to a negative pressure for 10 minutes, at 23°C, of a values depending on its type:
medium type – 50 kPa (absolute pressure 50 kPa),
heavy type – 60 kPa (absolute pressure 40 kPa),
no collapse or fracture shall appear on the pipe.
QUALITY REQUIREMENTS:
TWT-ZR-1/2017
GAMRAT WENT: TYPE 2 – NORMAL SERVICE
TECHNICAL DATA
Inner diameter (mm)
Inner diameter tolerance (mm)
Weight
(g/m)
Bending radius (mm) at temperature of 23°C +/-2°C
25
+/- 1,25
220
60
32
+/- 1,25
300
80
40
+/- 1,50
410
100
50
+/- 1,50
510
125
63
+/- 1,50
690
155
75
+/- 1,50
830
195
80
+/- 2,00
980
210
90
+/- 2,00
1130
245
100
+/- 2,00
1310
280
110
+/- 2,00
1480
315
125
+/- 2,00
1730
370
150
+/- 2,00
2190
460
160
+/- 2,00
2500
490
200
+/- 2,00
3380
630
GAMRAT WENT: TYPE 3 – HEAVY SERVICE
TECHNICAL DATA
Inner diameter (mm)
Inner diameter tolerance (mm)
Weight
(g/m)
Bending radius (mm) at temperature of 23°C +/-2°C
25
+/- 1,25
297
80
32
+/- 1,25
300
110
40
+/- 1,50
420
140
50
+/- 1,50
605
175
63
+/- 1,50
800
220
75
+/- 1,50
1000
275
80
+/- 2,00
1100
300
90
+/- 2,00
1440
350
100
+/- 2,00
1620
400
110
+/- 2,00
1680
450
125
+/- 2,00
1950
525
150
+/- 2,00
2800
650
160
+/- 2,00
4000
700
200
+/- 2,00
5400
900