Recommended systems for individual types of objects.
Sheds, gazebos, garages, balconies:
system 75 (gutter 75 mm with downspout 63 mm).
system 100 (gutter 100 mm with downspout 90 mm).

---
Small family houses:
system 100 (gutter 100 mm with downspout 90 mm).

---
Single family houses, apartment blocks, small and medium warehouses,
public buildings, commercial and industrial buildings:
system 125 (gutter 125 mm with downspout 110 mm, 90 mm or 63 mm).

High
durability
of sheets



The innovation of Magnat gutter systems is based on bringing together traditional PVC and modern acrylic plastic. The product obtained in this way is resistant to the damaging effects of UV rays. Copper and silver colors are particularly recommended as they contain copper and aluminum particles giving them the "metallic" finish. Thanks to UV filters, the colors do not fade, and after 12 years they are the same as at the time of purchase – which is guaranteed by the manufacturer
PERFORMANCE OF GUTTER SYSTEMS
GAMRAT STALGAM
When choosing a gutter system, calculate the so-called effective roof area – the area from which the gutters and downspouts will have to drain water.
Below we present the maximum effective roof areas per one downspout for Gamrat gutter systems.
When calculating the effective roof area, use the following formula:
S = (B + 0,5 C) x L
Usefull section area
Gutter 75 mm – 33 cm²; Gutter 100 mm – 58 cm²; Gutter 125 mm – 91 cm²; Gutter 150 mm – 131 cm²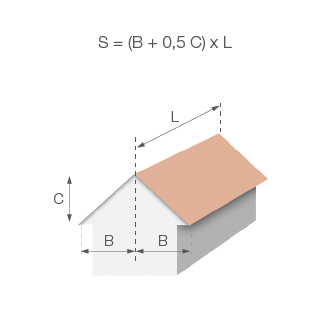 | | | | | | | | |
| --- | --- | --- | --- | --- | --- | --- | --- |
| Downspout location | 75/63 mm | 100/63 mm | 100/90 mm | 125/63 mm | 125/90 mm | 125/110 mm | 150/110 mm |
| | 95 m2 | 110 m2 | 148 m2 | 240 m2 | 205 m2 | 165 m2 |  370 m2 |
| | 48 m2 | 55 m2 | 74 m2 | 120 m2 | 100 m2 | 82 m2 |  180 m2 |
| | 42 m2 | 46 m2 | 50 m2 | 90 m2 | 80 m2 | 65 m2 |  145 m2 |