Recommended systems for individual types of objects.
Single family houses:
system 130/90 lub 130/100 (gutter 125 mm with downspout 87 mm or 100 mm).
Large residential, industrial and commercial buildings:
system 150/100 (gutter 150 mm with downspout 100 mm).

High
durability
of sheets




Tested under difficult conditions and tested on millions of roofs, Gamrat PVC gutter systems are highly recommended by contractors and investors. They guarantee a perfect drainage even at torrential downpours. Available in four popular colours: dark brown, black, graphite and white.
The secret of Gamrat PVC systems lies in the excellent quality and durability of the materials used for their construction. They are watertight and mechanically resistant, resistant to all industrial pollution and acid rains. The parabolic shape of the gutter gives it maximum throughput and performs in extreme conditions. Additional bends at the ends reinforce the structure and strengthen the gutter. The whole is complemented by innovative brackets, resistant to loads and corrosion. The elements of our system are easy to install and do not require additional funding for maintenance.
PERFORMANCE OF GUTTER SYSTEMS
GAMRAT PVC AND GAMRAT MAGNAT
When choosing a gutter system, calculate the so-called effective roof area – the area from which the gutters and downspouts will have to drain water.
Below we present the maximum effective roof areas per one downspout for Gamrat PVC gutter systems.
When calculating the effective roof area, use the following formula: 
S = (B+0,5 C) x L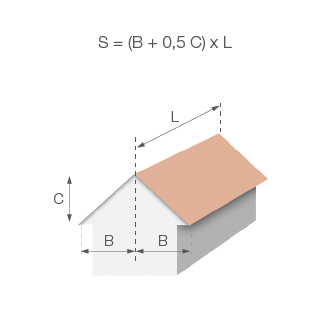 | | | | | | | | |
| --- | --- | --- | --- | --- | --- | --- | --- |
| Downspout location | 75/63 mm | 100/63 mm | 100/90 mm | 125/63 mm | 125/90 mm | 125/110 mm | 150/110 mm |
| | 95 m2 | 110 m2 | 148 m2 | 240 m2 | 205 m2 | 165 m2 | 370 m2 |
| | 48 m2 | 55 m2 | 74 m2 | 120 m2 | 100 m2 | 82 m2 | 180 m2 |
| | 42 m2 | 46 m2 | 50 m2 | 90 m2 | 80 m2 | 65 m2 | 145 m2 |