Recommended systems for individual types of objects:
Single family houses:
system 125/87 or 125/100 (gutter 125 mm with downspout 87 mm or 100 mm).

---
Large residential, industrial and commercial buildings:
system 150/100 (gutter 150 mm with downspout 100 mm).

HIGH
DURABILITY
OF SHEETS



Produced from high-quality Swedish GreenCoat® steel, the innovative StalGam system combines elegant looks with high efficiency in draining water – thanks to one of the deepest gutter profiles on the market. The high-tech coating structure ensures colour stability and long-term trouble-free operation. Snap-on connectors make installation fast and simple, thus reducing labour costs.
GreenCoat® is a trademark of SSAB Group.
PERFORMANCE OF GUTTER SYSTEMS
GAMRAT STALGAM
When choosing a gutter system, calculate the so-called effective roof area – the area from which the gutters and downspouts will have to drain water.
Below we present the maximum effective roof areas per one downspout for StalGam gutter systems.
When calculating the effective roof area, use the following formula:
S = (B + 0,5 C) x L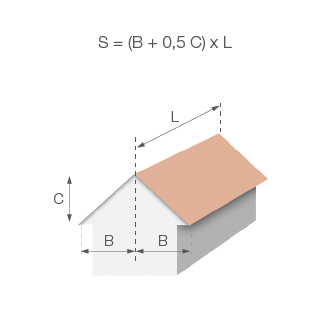 Downspout
location
125/87 mm
150/100
200 m2
350 m2
100 m2
175 m2
86 m2
140 m2