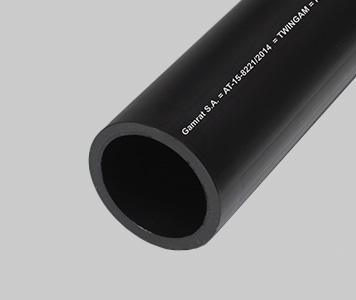 Gamrat polyethylene pipes made of PE are especially recommended for the distribution of technological liquids and sewage. Thanks to their high resistance to aggressive substances they are also used as protective pipes. They are environmentally neutral and completely physiologically harmless.
The technology of PE pipes is based on certified PE-HD of PE100 grade for pressures: 0,6; 1.0 and 1.6 MPa (PN 6, PN 10 and PN 16). They are manufactured by extrusion of polyethylene of a density higher than 930 kg/m3 with the addition of antioxidants, stabilizers and pigments necessary for the production of pipes of specific mechanical properties and weldability. We meet all quality standards and we are proud of manufacturing systems that are compatible with world-wide quality inspection systems.
Pipes are available in black. It is possible to apply 4 or 6 colored stripes.
Physical and mechanical properties:
density of pipe material: 0,930–0,960 g/cm3,
melt flow index: 0,2–1,4 g/10 min (at the load of 5 kg and temperature of 190°C),
ultimate elongation at rupture: min. 350%,
thermal stability: not less than 20 min (at temperature of 200°C),
linear thermal expansion: 0,2 mm/m°C,
elasticity coefficient: 600–800 N/mm2.
Advantages and benefits of PE sewer pipes:
excellent elacticity and mechanical strength,
high impact resistance – pipes do not break upon impact even at low temperatures down to -80°C,
low flow resistance due to smooth inner surface,
low weight,
pipe joints made easily,
possibility of squeezing pipes off and stopping the flow of media for renovations,
resistance to corrosion and stray electrical currents,
physiologically neutral – pipes not releasing any contaminants to the environment.