PE100RC TWINGAM GAS PIPES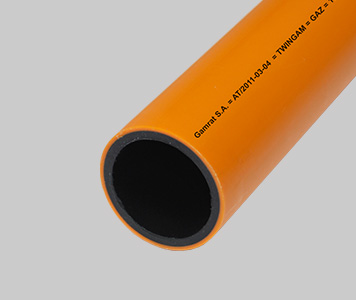 PE100RC TWINGAM GAS PIPES
Taking care of the highest quality of our products, we have prepared TWINGAM polyethylene layered pipes for low and medium pressure gas networks (from 0.5 MPa) and high pressure networks up to 1.0 MPa. For their production, we use PE100RC gradepolyethylene with increased resistance to crack propagation.
Unusual simplicity of use is due to the lack of use of bedding and side-filling – TWINGAM pipes are laid directly in the native soil. For your convenience we have adapted them for renovation works carried out by traditional and trenchless methods.
For this system, the nominal diameter range is from 25 mm to 630 mm. We offer two types of TWINGAM pipes – manufactured as single layer and two-layer pipes of dimension ratios: SDR 11, SDR 17 and SDR 17.6. Pipes are connected by butt welding or electrofusion.
VERSIONS OF TWINGAM PIPES:
single-layer (PE100RC polyethylene) – diameters ranging from DN 25 to 75 mm,
two-layer (with the inner layer of PE100RC polyethylene and the outer layer also of PE100RC polyethylene), for diameters ranging from DN 25 to 630 mm.
| Properties | Requirement | Test method |
| --- | --- | --- |
| Test FNCT (Full Notch Creep Test) | no failure during the test | ISO 16770 (test parameters: 4 N/mm2, 80°C, 2% Arkopal N-100, time > 8760 h) |
| Resistance to point loading | no failure during the test | Test PLT Dr Hessela (test parameters: 4 N/mm2, 80°C, 2% Arkopal N-100, time > 8760 h) |
| Resistance to slow crack growth (Notch Test) | no failure during the test | PN-EN ISO 13479:2009 (test parameters: SDR 11,pressure 9,2 bar, temp. 80°C, time > 8760 h) |
| Resistance to rapid crack propagation | stopped | ISO 13477:1997 critical pressure Pc ≥ 10 bar |